Our (former) Senator passed away in a plane crash Monday outside Dillingham, AK. From the crash photos, it looks like the plane was in full climb mode to get over the mountain and it didn't make it. Five people have been confirmed as non-survivors and several others are in critical and serious condition.
Aside from the obvious, married to a bush pilot, who now only flies on his own time, I hate plane wrecks. I hate them. But, in our communities, its the only way to get around and they're almost as common as car crashes in your part of the country. As a matter of fact, prior to Senator Steven's dying, the young pilot who flew my mother-in-law, sister and her family out to Dora Bay when we spread Papa's ashes was killed in a crash outside Ketchikan.
Hard hit was my husband Dean who is not a political man. He is a simple, outdoorsy, hunting kind of guy. He doesn't care to dabble in politics of ANY sort. But hearing the news shook him up. He remembers the time at the aptly named Ted Stevens Airport in Anchorage when Uncle Ted stopped what he was doing, recognized Dean, came up to him and said, "I am so sorry for your loss son, your father was a Great Man. I hope to make the memorial in Ketchikan in June."
Dean didn't know he knew the Senator. The Senator knew him.
Senator Stevens was Alaska's Man. He earmarked plenty of money to our state. And I know, we get the dividend, etc. But we also got flush toilets thanks to him. We also have clinics in our villages because of him. And such simple procedures like getting our kids immunized for school would not be possible if not for Uncle Ted's money. Not one single person who has walked on a road, boardwalk, airport, pavement, went to a clinic, flushed their toilet, gotten water from their sink, is not affected. No matter if you're Red or Blue, Uncle Ted helped us all.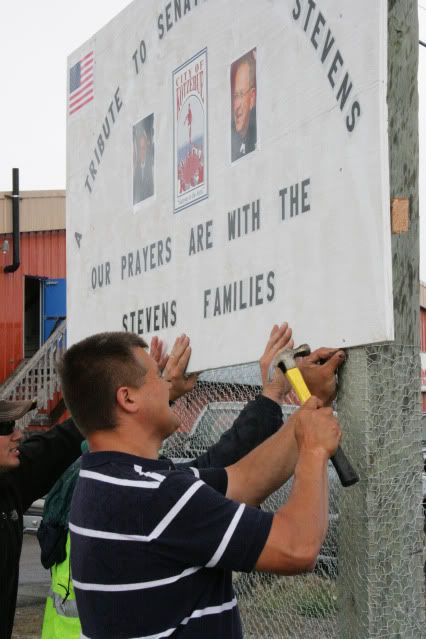 So, the City of Kotzebue put up a memorial for Uncle Ted. Along with the help of the entire City Employees, the City of Kiana's Mayor and our City Council, they put flowers up, and had a local pastor pray. It is on the corner of Ted Stevens Way and 5th Avenue. There are no more "Ted Stevens Way" signs, as they were all removed after the word was given out. I don't know if they mysteriously disappeared, or if people simply took them home to remember.
Whatever the case may be, this will remind us all of our clean water, flush toilets and clinic personnel. Thank you Uncle Ted, and thank your family who sacrificed their time with you to help
all of Alaska
. Our family continues to pray for the families affected.
And P.S. I really like to flush toilets! :)