Every day,
We work.
In the sunlight,
Wood split, Ice cracks.
Relaxing to the soul.
Every evening,
We play.
In the moonlight.
Shadows chasing, eyes watching.
The sound startles me
From a dream. I'm signing autographs.
The light glares at me.
GET UP, GET UP.
Constant buzzing around me.
The cable box hums,
The computer stares,
The microwave dings,
I drive to work.
The lights fill my eyes with an ugly bright.
People whiz by, in a hurry.
It's too bright.
It's too loud.
It's too humid.
It's too fast.
We sit too much.
Soon though.
I'll be back.
And all will be well again.
That poem I quickly typed this morning, as I was driving Kaisa to school...and after I was abruptly awoke by the ugliest sound around. The alarm clock buzzing. BZZZ BZZZ BZZZT!
I hate that thing.
We went to our camp across the way on Thursday around 1:00 p.m. with a friend and her kids. We packed THREE sled loads, (granted one was a mini jet sled for the kids to play on, but it DID have a generator on it!), two dogs, four kids, two wives and three snowmachines out there.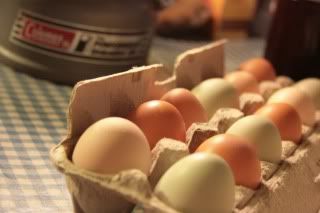 The house was cold soaked when we arrived. But we leave it cold until someone comes around to warm it up. Dean left us (he Does have a "racing rig!") so he could start the stove and warm it up a bit before we got there. It didn't work too well. We saw our breaths in the house for at least a couple of hours after we arrived.
The ladies took a sauna the first night...just the two of us. Relaxing, to say the least. No kids, no husbands!
We watched the fireworks from camp and the kids were mildly disappointed until we saw a fox running around, and then things got exciting!
The moon was so bright that we didn't need flashlights, headlamps, etc to do anything outside.
Elsa and Zach drove up the next day, and our friends left. Coincidentally, Elsa and Zach drove up, met our friends, switched snowmachines and drove back with the same snowmachine that had left just an hour before!
The boys hunted and us girls played Littlest Pet Shop, and Crazy Eight, Pick Two, Kings Reverse, Four skip! (Or whatever, you want to call a camp card game) We played and played and played. And kept the fire stoked. And kept the camp coffee on!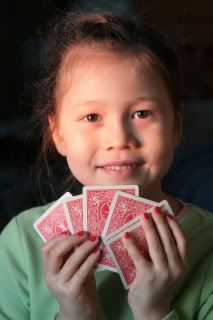 And then we got tired of all that crap, and we went outside and went hunting ourselves. You see, I was never left home when I was little. I wasn't treated like a girl. I didn't do dishes at camp, or chores. I went hunting. So, heck with it all, I took her hunting. We shot the 17 Mach-2 at some wood stumps and a few Foxes (Ice blocks that she swore were foxes!) on the ice. We came home empty handed, but we had fun.
The 20 minute drive back to town turned into an hour long adventure, as Kaisa wanted to ride in the sled with the dog, and then she wanted to see if she could walk home (and lasted about ten minutes), and then she wanted to drive, etc. So, we toodled around, and eventually got home to a big mess and electricity and flush toilets.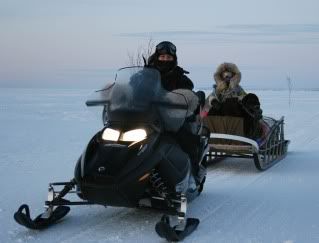 Coming back to Kotzebue was super disappointing. The constant buzz and HURRY UP life here in town is just emotionally taxing. (Actually, it COULD be that Koy and Tim have to go to court today and testify, because the guy who jumped them swears it was all "AN ACCIDENT!" PSH.)
Anyway...we're back again. And can't wait to head back this weekend!