"Snips and Snails and Puppy dog tails...that's what little boys are made of!"
The poem completely forgot to mention that they are also full of honor, and love. They are filled with compassion and understanding. Boys are strong and humble.
Yeah...they sure are.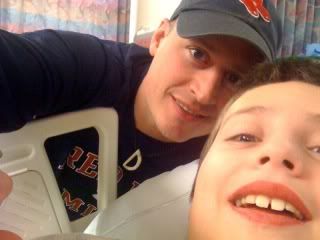 Today, little Max is in the hospital in Anchorage, after a scary weekend. He has had several CAT scans, MRI's and actually had brain surgery yesterday evening. He is doing quite well and appreciates his dad being there with him. Max is my step-son, but I whole-love him.
Today, my son faced his "attacker" (AGAIN) in court, and we listened to him and his lawyer make up stories and excuses. I am deeply disgusted in the fact that an adult can do this, then lie, and give false representation of what a "MAN" should be. My only hope is that my son, his best friend (who suffers every day because of this guys actions), and their friends know that this is NOT what a MAN is, and in fact, he is exactly what we hope our son's will not turn out to be.
One of the Inupiaq Values is responsibility to tribe. Obviously this person does not belong to "this tribe" because you don't outright lie in court in front of young men, who believe that adults are role models. That is irresponsible to say the least.
We teach our sons to respect their "elders" and teachers, and any adult that comes near them. Even if they are abusing their authority. It is not their place to determine if the adult is within their boundaries. It is the boys responsibility to simply respect them and do what they are told. And they do. But, how exactly do they bounce back from something like this? How do I?
Both boys have been out of school for the past week. Simply because we could not trust that the "system" would work and keep them safe. I have faith in the system, as well as faith in my child. He is going back Monday, come hell or high water. It's time to move on. Trust our legal system and trust our School authorities to keep our children safe.
I believe that this was an accidental case of the wrong people. But, anyone with a conscience would admit to their fault and pay the consequences of their behavior. It must be nice to be able to get away with things like this, simply hire someone to talk on your behalf, and sit back.
As for Max, he is doing really well. Dean has been with him throughout the day, and Gramma comes in from Phoenix today to be with him as well. We are holding up here as well, keeping extremely busy. I didn't want to write negatively every day, and writing about fun stuff has really helped the situations.
Stress on people does crazy things to your mind and body, so we simply breathe and take it one day at a time around here. Thanks for all the prayers...all the well wishes...for everyone involved. God knows...we ALL need it.
My prayers are with my boys and husband. I can handle this...I hope they can too.