Scrunch, scrunch, scrunch...
When the temperature in Kotzebue drops below -20 for weeks at a time, a person has to simply find ways to make the outdoors beautiful.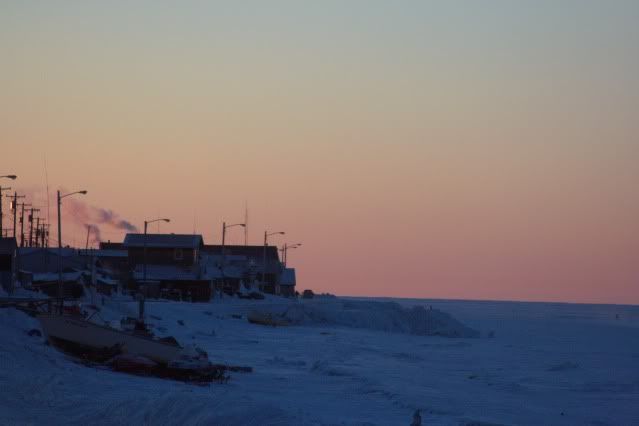 Walking outside in this type of weather is a feast for your ears. Sound travels much quicker in the cold air and makes for a symphony of people's footsteps, breaths and howling dogs. You could almost do a weather rap with all that ambient noise!
"Ba ha hu ha...its COLD out... BA HA HA HU HA...don't freeze your snout!"
When our daylight gains 4 minutes of sun per day, but you still go to work in the dark and come home in the dark, a person simply has to take a long lunch break to marvel in the beauty of a cold day's sunrise/sunset.
The smoke stacks look like beautiful clouds sprinkled with a Kindergartener's pink painting skills. Electric lines look like sharp cuts in an otherwise perfect blue sky. The moon, which is still up, tries his hardest to peep through the bright light of the sun.
Pretty soon, rather than just brightness, the sun will actually provide some heat and we can take all the kids out fishing on the ice.
As for now though, its dang cold out there and will be for a while. So, marvel at the small things. Like waking up to a 60 degree house, realizing you ran out of stove oil and being happy that it wasn't a weekend where you had to pay a call-out fee! (Then paying $1,000 for 200 gal. of stove oil for the second time this month!)