So, last month was National Sewing month (Yay!) and I did manage to sew with a sewing machine several times. Though I wasn't always in town (Hello camp!) I did make a few things here and there.
I decided, thanks to my
sisters
persistence in getting HER parky done, that we could end the month with a big bang! Making two parkies for her and Kaisa.
My husband is irritated because one of my Christmas presents last year was a Finnish Shadow Fox pelt. Ahh, pure bliss. But still just hangs on my wall so I can stroke it and imagine my head engulfed in that thick soft warm fur. Ahhh...
And even though I don't have a parky, I still make them for other people. But, this is Saima's first parky, so I don't feel so bad. (Well since she was little anyway, we always had a new parky growing up!) It's her first ADULT parky!
She had made her Isilgvik (is-IL-gvik = fur around the hood) out of Polar Bear and Sea Otter that her boyfriend
John
caught, but lacked a proper parky to put it on.
So we measured her old REI Down jacket for the liner and made her a fitting parky.
Yay us.
As for Kaisa, she didn't even have a jacket for the semi-winter here, so it was either purchase one or make one. And if we purchased one, we'd either have to sell her kidney to afford one at AC, or order one from LL Bean that would take 5-7 working days to arrive, tacking on the extra 6 days it takes to go from the Airport to the post office to our box, that's a little too long to wait.
So, three hours later, she had a jacket. One SHE picked out the fabric for, SHE decided on the length, SHE wanted the gnome-ish hood for. She was excited. Me, not so much, I favor the longer style with the skirt for little girls, but she is very happy, so whatever.
Her parky started out as a free garage sale find here in town. A little girls size 10 fake-fur on the outside coat with no hood.
So, we just cut off the bottom, and made the bottom into a hood.
Flipped it inside out and measured the perimeter with freezer paper.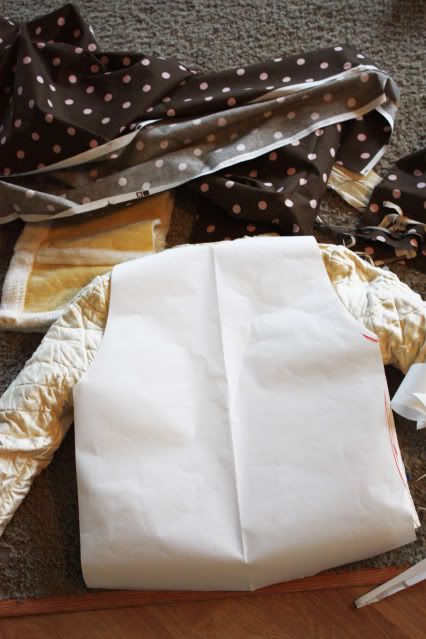 Then ironed the freezer paper onto the fabric she picked out so we could simply cut around it. (Seriously, freezer paper patterning is the BEST!)
Then started sewing. And sewing. And sewing.
The most difficult part was the zipper. I had to remove the entire thing, then cut it to fit the shortened length, then resew it on. Three layers of lining, quilting and the brown polka dot fabric. I only broke ONE needle, so I'm happy!
And so is she. She wears it all over town, sporting a mighty Gnome-ish hood and all!
Happy Sewing month. Now for us Natives, its skin sewing time. And my son needs ANOTHER HAT. How he goes through hats, I will never know. So, I'm in need of some leather and sheared beaver, since he's very particular about fur in his ears!
Happy Winter.