I hate tax day. I am so glad not to have been born today! EVEN though the government owes me money, I just have a strange aversion to doing my taxes! So...needless to say, I haven't done them.
I PLANNED to go home, have a glass of wine and do them last night. But, instead of that, I went for not one, but TWO walks! One with my friend Kari, and one with the girls, who were super excited to ride their bikes, but desperately needed air in their tires. And the dog is getting fatter than we are, and needed a walk too.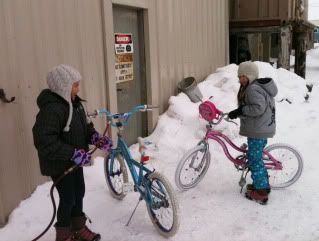 AND, when I finally DID get home. I decided that I wanted to make a pair of Finnish colored baby booties for Rea. So, I did that instead.
AND, after that I watched Idol, and my DVR'd Martha Stewart. Then, I had just enough time to read about twenty pages of "House Rules" and I went to sleep.
I'm getting in trouble aren't I? Sigh...oh well, I guess I can file and extension due to procrastination. I wonder if I can play the Eskimo-in-the-arctic card? Oh well. I guess you have to do what you have to do right?!
Anyway, the booties, turned out awesome. I think I'll purchase some more thinner leather, and sew some on a sewing machine rather then hand sewing them though, cause it'll solve the time problem. And maybe I'll get something done!?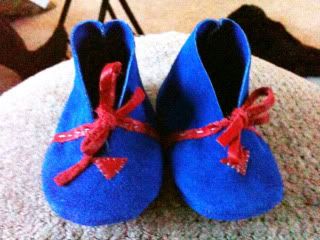 Other than sewing I mean.