OK, since my awful run-in-with-death back in late September I've had some serious stress issues. I mean, I've been stressed before, but before, all I'd do is eat a bunch of baked bread, or run a few hundred miles. (I'm thinking I'd be eating this time though, my running days are numbered!)
Now though, when I have even the itsy bitsy-est stress, I break out in miniature blisters on the palms of my hands. And you know what? IT SUCKS!
BUT. . .
I have a LOT of stress relievers in my house, cluttering up every single corner they can...collecting dust until I love them once again.
Like these...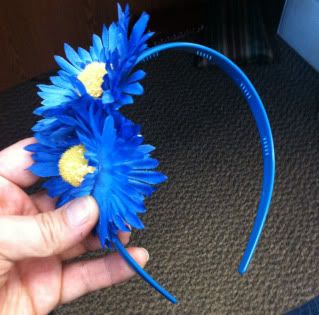 Last night, Kaisa and I made two headbands to wear. One for me, and one for her. They're super simple, you can make them to match any outfit! (I totally don't match, but I'm a husky at heart and could NOT pass up blue and gold! And DAISIES?!!! They had me at hello!)
Kaisa is wearing this purple headband with pink and orange flowers, completely not matching anything except her bright smile. And I'm wearing a Blue and Gold Daisy one today.
I can feel the stress drain out of my toes and onto this institutional carpet!
Also, I am having an attack of the AMAZON FREE SHIPPING crafting and sewing books. I DVR'd Martha the other day and she showcased her Encyclopedia of Fabric and crafts, OMG. Again, I repeat...
O.M.G!
Why do you do this to me Amazon?! I mean, with other sites, I can make the excuse of, "It costs too much to ship to Alaska..." And with FREE super saver shipping, I can't do that. I am helpless in your grasp to ship to me in Alaska!
P.S. I love you Martha.
So, naturally, I bought it with one-click shopping. DAMN YOU ONE-CLICK SHOPPING! AND, my hsuband sent me an email with TWO beautiful clipped calfskin's he purchased today. You know...to collect dust, or maybe be made into some awesome baby mukluks...or Kaisa mukluks, who knows.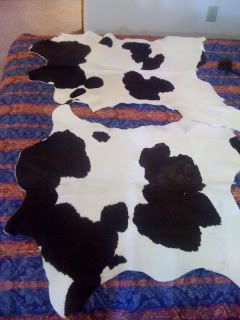 I'll just do whatever my heart desires I guess. That's the happiness in something you make. You can fashion it however you like and wear it with pride.
OK, back to sewing/gluing/crafting/etc.