Yesterday was my daughter's 7th birthday. Seven years ago, I had a LOOOONG little baby (22.5 inches) after a few hours of labor, after being 12 days overdue! She has grown and GrOwN, and GROWN into a beautiful little lady.
She spent most of the weekend at her grandparents, and the only thing I was responsible for was making sure she had a wonderful birthday party waiting for her when she came home on Sunday afternoon. And a very merry un-birthday it was!
I made paper hats and had Saima put ribbons on them, and printed out several cardstock printouts of the original Alice in Wonderland illustrations for the paper bag "party bags." We hunt a string of balloons on the ceiling as a cheap alternative to paper lanterns, and while I was in the "city" last weekend, I found several mismatched tea cups and saucers at Valu-Village and the Salvation Army for just about 25 cents each. I also picked up several dollar prizes and my favorite has to be the "magician gloves" we found at Michael's for $1.
Remember now, I live in a village, and nothing is available here. I have to actually plan months ahead and purchase all the birthday supplies when we're in town. But, my sister was having a baby, so I got to rush to the big city. I even ate at McDonald's!
We found some metal planters and bought some "Alaskan Flower Seeds" guaranteed to work in the arctic conditions and some pre-fertilized soil for the girls to plant seeds during the party.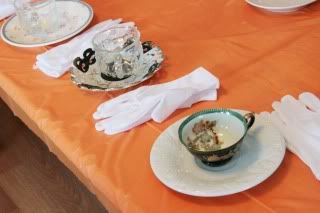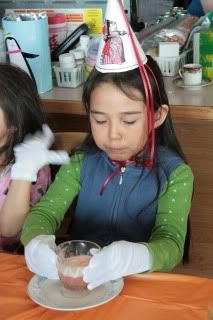 I'm sure the hit of the party though, is Eskimo Bingo. After all the games of Musical Paper, Balloon Ball, and whatever else, the kids always look forward to Eskimo Bingo! Although the "tea" was a hit too. (sprite, pomegranate syrup, and ice cream)
Oh, and you can't forget the cake! It was sort of a play on a topsy turvy cake. I was in a rush, and meant to cut the sides down, crumb coat it, etc, etc, etc...but I ended up just drizzling frosting on the sides and it looked amazing! It tasted great too!
We had about fifteen girls show up, and best of all, my baby niece Rea (RAY-ah) came over too with my sisters to help. Yesterday was her ONE week Birthday! We gave her momma some cake so she could make it into milk and feed it to her! haha.
So, after a long day of making 200 people sourdough hotcakes, bacon, eggs and sausage, then organizing a birthday party, I'd say, when I fell asleep at 8:30 p.m. that it was OK!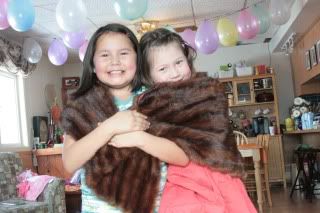 Although, my kids thought I was just "getting old!" ha.
Happy 7th Year baby. We love you!