That Martha Stewart. Such a thief. I totally made a rainbow cake before she "debuted" it on her show today. I am so irked.
I had seen on another blogger's site a 16 layer cake, and took off on that idea to use rainbow colors when I made Kaisa's cake. So, I completely think I was the inventor of the awesomeness that is a rainbow cake.
Good thing I'm sick, cause I wouldn't have seen Ms. Stewart steal my idea! I expect benefits and royalties! Like a piece on your show MARTHA!!!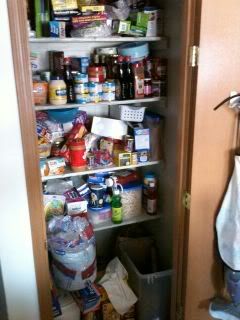 OK, anyway, I ORIGINALLY thought I'd talk about the TONS and TONS of groceries that I ordered from My Harvest America. They are ALL finally in. After five long, starving weeks, ALL my non-perishable groceries came in.
I totally feel like Old Mother Hubbard, who went to her cupboard, and I swear to you on all things holy, it was BARE! (or at least it was sort of messy!)
And let me tell you, It was WELL WORTH THE WAIT! Seriously, groceries are like more precious than Gold up here. A gallon of milk is over ten bucks after taxes, and a dozen grody eggs is almost five. Don't even get me started on kid snacks. I mean, I'd save money importing an orange tree from Florida and growing it in the middle of my living room.
But now that I have GREAT HARVEST AMERICA, I can just order canned Mandarin oranges!!! Yay. My kids are giddy with delight because its no more ziplock bags of bulk cheez-its for them!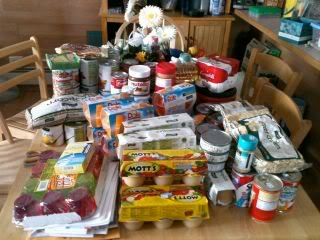 If you visit my site (YES, I totally signed up man, to YOUR benefit, and mine!) www.myharvestamerica.com/finnskimo and click Shopper Login, then use my username: finnskimo and password: winter, you too can get the dirt ass cheapest groceries you've EVER seen. Yes, even those of you who pay a buck twenty five for milk, you will see CHEAP prices and better yet, FREE SHIPPING!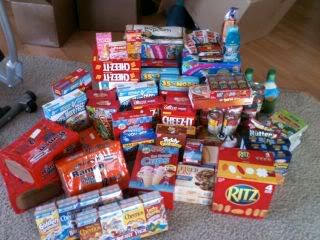 So, AAAALLLL the groceries I bought came out to almost $350, which, by the way, would be less than ONE cart here in Kotzebue at the Store-that-will-remain-unnamed. (COUGH, AC, COUGH). And even though they don't offer any perishables, that's OK, because the money we save on Toilet Paper, Paper towels, Laundry soap, and Capri-Sun (a DOLLAR NINTY FOUR MAN!), we can use for FRESH monopolized MILK! (AND DUDE, if you're a baker, I got TWO - 25 lb bags of flour for sixteen bucks TOTAL!) (AND DUDE, if you're a coffee drinker, I got the bulk-sized Hills Bros for FIVE BUCKS A CAN!) (And DUDE...its just so awesome, you have to check it out!)
Get this, I put up SEVERAL signs over at the "community board" at the AC store here and ALL MY SIGNS mysteriously disappeared less than an hour after hanging up. Seriously, I put up at least five different posters showing the AWESOMENESS that is GREAT HARVEST AMERICA.
And even better? I signed up, so now YOU can save too. Feel free to use my username, password, but make sure you use your own credit card and shipping address! ha.
And enjoy your cheez-its as much as I do! :) (EVERY time I go fishing!)