After a full night of IV medication, and several shots, even some in the belly (!), and a mini-surgery in my hospital room, I woke up to MANY visitors, paniqtuq from Ike, Pickled muktuk from Jackie, and a super surprise visit from my mom AND dad, and even better.....I'm getting out TODAY!
So, FYI... I was admitted to the hospital, and after some serious steroids and visitors, my hands were so remarkably better, thay I was sent home (to the hotel) for the weekend with enormous amounts of oral steroids and a full-diabetic diet! I can handle it man!!!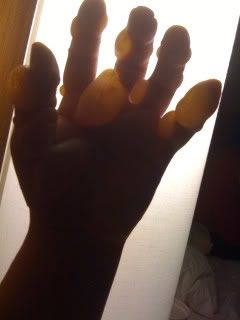 Ghostly!!!
I was wheeled out of the hospital, but walked to eat, walked in wal-greens, walked to shop!!! And it WAS GREAT to be vertical again!!! Sigh, now all i need is to finish healing and start sewing again!!!
Thank you to those who prayed, visited, showered me, laughed with me and cried with me.
Just keeping my peeps up to date!!!
Whoop, Whoop!
Now... I think I'll me a mummy for halloween, since I already have the hand to make it!