"Mom, Can I tell you a story?"
Sure.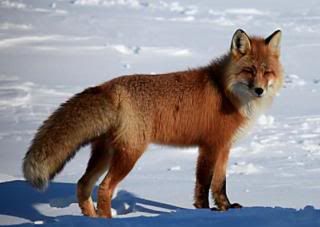 "Ok, once upon a time, there was a fox. And everything was white at that time. It was a long time ago, I guess, even the trees and stuff, they were white, OK?
So, this fox, he was hungry. Oh so hungry, and his tummy was talking to him, saying, 'I'm so hungry, go find me a mouse.' So, he went hunting for mouses.
He found a hole in the ground and there was a mouse running to it. And the fox GRABBED IT!
He was gonna eat him. But then the mouse said, "wait, wait, wait. You don't want to eat me. I'll dance for you."
So, the fox let the mouse dance. But he kept a real good eye on his hole so he wouldn't get in there.
Then the mouse said to the fox, "Can you dance?"
And the fox said, "Yes I can dance."
So, the fox and mouse danced and danced together in the white world. And he was having fun. Then all of a sudden, the mouse DANCED RIGHT into his hole!
The fox got so mad that he stomped and stomped and stomped. His face got red. His body got red and he was SO mad that his while body got red up to the tip of the tail. But the tail stayed white so he could see that he used to be white. And he was still hungry.
Mom, that's how the red fox got red. The end."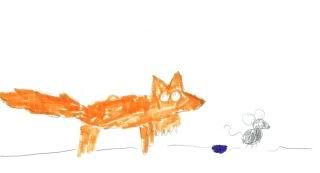 When we grow up in Kotzebue, many stories are told to children. Some are scary, like "The baby with the big mouth" and some are silly, like "How the Kayuktuq got Red." (red fox) But all tell a story and all have a moral. The moral of this story is not to be tricked and play (dance) when you are supposed to be hunting, or you'll starve.