Have your six year old help you to the bathroom, and wash your hair in the shower, because you can't.
If you're like me, and I know a few of you are...you just don't accept help. Sure, you have people constantly tell you that they'll help, "just call," but you never call.
I never call. I feel like if people want to help you, they will. I don't like to wait for people to call me. I feel like if I notice, or know that someone is in need of help/assistance/fundraising/etc. then its my duty to help them if I can. And I usually can.
I'll watch kids. I'll bake stuff for bake sales. I'll hold online contests. (seriously, when I get back to 50% function in my hands, I will send out the prizes...right now I'm typing with one hand.)
I'll do whatever I can to help. That's just me.
So, when it comes time for me to ask for help. I won't ask.
As I sit here, I am in a crying fit, because I am alone in my house with a whining dog, and I couldn't walk to my bathroom. So, I crawled on my elbows and knees, but with blisters like mine, I simply can't remove my sweatpants, or underwear.
So, I cry. And cry. And cry. And then laugh.
What else can you do? I found myself really, REALLY needing to pee, unable to take my own clothes off, crawling on the dog hair filled floor on elbows and knees, and sitting on the bathroom floor. Seriously. What else can you do but laugh. It was funny.
Then, I guess I find the strength to take off the outerwear, and sit on the pot.
Wiping myself. Now that's another post. Ho-LEY cow. But, you know what? I did it.
And I am happy. I am happy to be alive. I am happy that my children are well and wrestling. I am happy for the snow. It seems like a new time to start over in everything when the snow falls. The pristine whiteness, just covers all your dirty, muddy earth, and makes it new again.
For those of you wondering where my husband, or sisters, or mother are. I'll tell you. My husband is in flight training. I have kept the severity of my condition from him on purpose. My fault for him not knowing. He needs to study and focus on that training, and not worry about me.
My sister's are home. Even though the youngest doesn't work, or really do anything, she's watching Kaisa when she can, I guess. I'm not going to require her to help. If she wanted to help, she would. My other sister works for a company that does NOT allow sick leave for a sister. She's been over here once to visit.
My mom works 7 days a week for 12 hours a day this week due to the 450 kids here for the bush brawl.
Who's really come forward are my friends. Real true friends. I don't like to judge people, or think people should do things for others when they don't want to.
One friend in particular works, has five children, ranging in age from 16-1 yr old. She's been a staple in my getting better. Sharing gospel, laughs, and generally taking care of me AND my children, as well as her own. Her husband, (THANK YOU) never asking twice about his wife taking care of another person. He works full time as well.
Other friends have called and asked what we need, they've come and cleaned my kitchen, folded clothes, and baked cakes. I appreciate it. I really, really do. Some of these ladies have prayed, and kept kids occupied.
Thank you so much for your help. For your prayers. For your Dt. Dr. Pepper to keep me going. Thank you for your company. Thank you for your time. I will never, EVER forget it.
*
more pretty graphic photos following...read and view at your own risk.
**UPDATE**
OK, so if anyone is, or KNOWS a dermatologist, or a doctor, or someone who stayed at a Holiday Inn Express lately, please feel free to show them these photos. Ask them what the HECK is going on with me and my body....and feel free to post back, or email me.
If you can correctly diagnose and CURE me, I will

1. be forever grateful to you

, and

2. make you a sealskin hat or a pair of calfskin mukluks

. I swear.
Here's the history:
In late September, I came home from camp wtih a normal blister that popped and crusted and grew new skinor whatever normal blisters do. Then, a few days later I noticed a burning feeling, sort of like I was stepping on a tack when I walked. I looked at my RIGHT foot and saw three small white blisters on the ball of my foot, and one on the top of the arch.
PHOTO 1 - October 9th
I went to the hospital and saw Dr. Torres and he popped all three, cultured them, and sent me home with Cephlex, a drug I am allergic to, and a tube of bacitracin. I told him I was allergic and he said, "well, its not an adverse reaction, so I'll just give you benadryl too. But, of course, if anything happens, go to the ER." (Way to cover your butt) I told him I thought it could be an aggressive form of athlete's foot, but he said it was NOT.
So, I lubed up my foot and it got progressively worse. On Tuesday of the next week I went to Anchorage to see Dr. Forsythe (?) a dermatologist. She looked at my foot for about ten seconds, said, "oh, its oozing" and told me I had oozing eczema, and prescribed Halobetasol (sp?) and wanted me to pay up front for a shot of some strong steroid, and kenelog, but I told her to write them down and I'd go to ANMC and get the shots for free. She also told me to use Burrow's soaks, an aluminum acetate astringint soak. I told her that I thought it could be an aggressive form of athlete's foot, but she said it was NOT.
Photo 2 October 18
On FRIDAY of that week, my foot had doubled in size and I had shooting, burning pain in my right leg. So, I went to the walk-in clinic and saw another doctor. I told him I thought it was athlete's foot, and he said he dind't think so. At that time, (one week ago yesterday) I had small blisters, about the size of a pin prick on my palms and thumb. I showed the doctors, who tried to figure it out, but couldn't agree on what it was. They told me to do nothing from now on. No steroid cream, no soaks, just let my foot be and come back in on Monday to check it again.
Photo 3 - October 24th
By Sunday after church, my foot was so swollen, I had no feeling in my toes, besides the big toe. I had two HUGE blisters about three inches by two inches, and rising up above my foot for about an inch, filled with clear liquid. I could not walk. My hands also had a constant sharp burning pain in them near the now numerous blisters that were forming on the palms. I also had several ring-worm looking rashes all over my arms, and trunk, but nothing on my legs.
The doctor there, told us that she agreed that she thought it was a fungal athlete's foot, and that when one doctor popped the blisters, and another prescribed a high potency steroid to put on top of it, that it made the infection at least 10 times worse than it would have been. She prescribed me a two week dose of oral anti-fungal pills, vicodin and burrow's soaks.
Hand October 22nd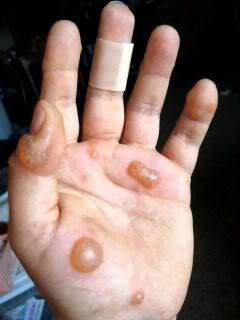 Hand October 24th
Yesterday, I went back to the hospital because I now have NO use of my left hand, NO use of my Right foot and my right hand is at about 50% usage, with blisters growing rapidly on both hands. My left hand is much worse than my right hand. I have a CONSTANT pain in my hands, a constant, sharp, burning pain, like I'm holding embers from a fire. If anything touches the blister, I feel a sharp pain go through my entire body, then it subsides.
bottom of R foot 10-24
bottom of foot. Gee, looks a little like my hands dontcha think?
I was told that my foot looked "better" and that we would take blood and take photos and send them to the ANMC dermatologist. He could take up to a week to get back to us, because he is the ONLY one there. I was told simply to wait it out and "enjoy my time off."
palm of L hand - 10-24
Seriously? Enjoy my time off? Doing what? Watching reruns and having my in-puberty 13 year old son help me to use the bathroom. Or my 6 year old, clueless daughter wash my hair while I'm naked in the shower?!
pinky R hand 10-24
So...if anyone knows...or can find out...or can tell me who to see, I will gladly FLY MY CRIPPLE BLISTERED BUTT DOWN AND SEE THEM.
Thanks.