Phase 1 complete! :)
The snow is perfect to build an igloo, and obviously we have a plethora of SNOW (ugh) surrounding my house...so, when life gives you lemons, you make lemonade. When life gives you packed down drift snow, you make an igloo...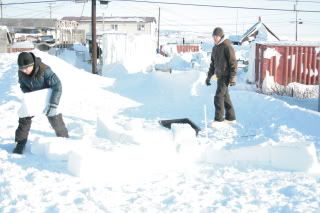 Phase one is complete...the bottom section and about three stacks up, is sitting up there on our hill, waiting for us to finish. The bite of the wind nipped our cheeks and tickled our toes...but that didn't stop us from sawing our way into half an igloo!
A long time ago, Eskimo's from Alaska did NOT live in igloo's...they used them when hunting, or moving from place to place. Once, my atatta (Grandpa) built an igloo at camp in the winter for us kids to play in, he showed us how to cut the snow, what kind of snow to use (the kind that kind of acts like styrofoam, stiff but light) and how to make the top so it didn't fall in. Since then, we really haven't made one, but I guess its better late then never. Besides, I worked feverishly on the side that was blocking the wind!
The kids are already making plans as to what they're going to put in it, including a light, and Qatchiaqs (caribou skins) all over the floor so they can play in there without outdoor gear. We're spraying the outside with water and its pretty rigid right now, so keep checking in, we have four phases we want to complete.
This is what our dogs did while we worked, the usual, whine and cry to play...