Dean and I took the kids out to the restart of the Iditarod in Willow on Sunday. It was our first START of the Iditarod. We've been to many finishes, but never a start.
It was kind of like a large dog race in Kotzebue...yelling about who was starting, yelling about the time they had left to go...etc. Nothing spectacular, but there were people from around the world to watch.
It was a beautiful day in Willow, perfect for our mukluks and the long johns we wore under our jeans. The kids were content to run around in the snow and complain about their legs being tired. Nothing new here.
We did encounter a truckbed full of pups for sale though. Of course all the kids wanted to purchase one.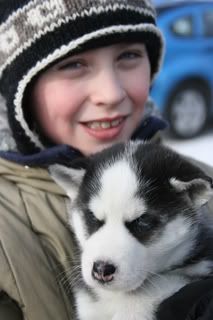 In my opinion, the finishes are much more fun. Especially when the musher finishes at 3:00 am. Who knows, maybe we'll make it to Nome for the finish too! :)