Thanks to Anugaaq for sending me these. I knew some of them, but not all of them!
I'll spell the words like they sound underneath, so you get the idea! :)
AH-nah
My aana's name is Katak, just like ME!
AH-kah
My mom's name is Jennie (Ahluniq, just like my daughter Kaisa)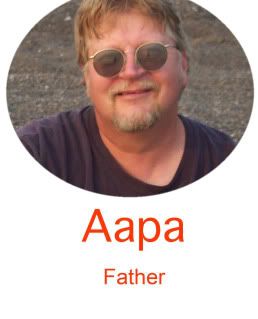 AH-pah
This is my dad, his name is Willie.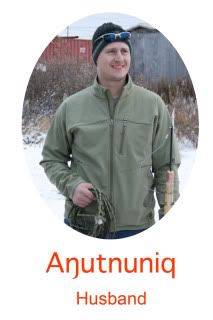 UNG-oot-noo-nick
This is my husband, Dean...the translation mean's "my man!"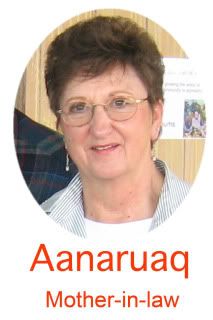 AH-nah-roke
This is my mother in law, Emily...Dean's mom!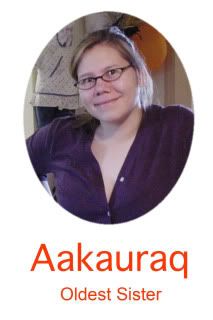 ah-KORE-uck
Yay, its me, Maija, I'm the oldest sister
niv-AKE-sake
Young woman...this is my sister, Saima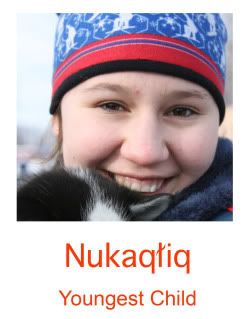 noo-KUCK-hlick
Youngest Child, who happens to be my youngest sister, Elsa
UGH-nah-kun
My cousin from my mother's sister.
This is my cousin Josie, her mom Ruthie is my mom's sister.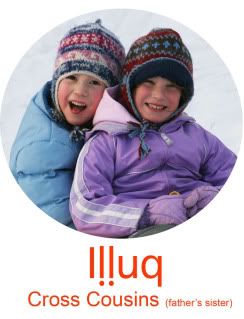 ILL-yook
Otherwise known as "ILA" (sounds like ILYA)
Cross Cousins - mothers brothers, father's sisters, or another name for the many family members we have!
Kaisa and Allee are Ila.
AHN-ick-un
Siblings: Max, Koy, Kaisa and Maddie
OK, I hope you enjoyed your lesson for today! :) You can always hear first hand how to say the word and how to use it in a sentance if you log onto
www.nana.com
and click on Inupiaq Word of the Week.
Katak.