Twelve bucks for a two minute ride!? What fun the State Fair is this week. Actually I'm being sarcastic, cause its NOT fun on the pocketbook, or bank account. It's NOT fun...especially when it's jam packed with people who work and kids who have to go to school, like this weekend.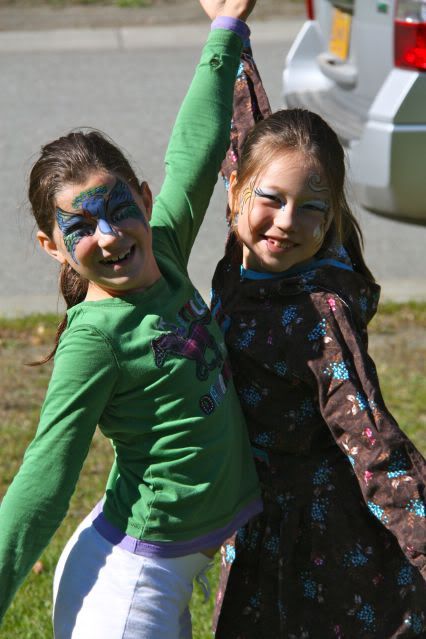 Oh well. $200 for a few thrill rides is OK once a year. I AM trying to cut corners as much as possible though. I painted the little girls faces so we didn't have to 1. wait in line, or 2. pay $15 each for something I could do myself. We have been taking our own water, and snacks too. We are at the fair mostly to work, so we get a $9 meal ticket each day and that is enough to sustain us until we get to McDonalds afterwards!
One good thing: We are staying in a hotel in Anchorage, and it has a pool. My kids will swim for three hour blocks of time...which they did the first day we were here. (Yay for free pools!)
The traffic though, OY! Luckily I just taught myself how to go through Wasilla, or on the Old Glenn and now it takes us just an hour to get back instead of the THREE HOURS it took us to get there yesterday. CRAZINESS. At least we got to see Bri and Sarah...she was her same feisty self, and Kaisa had a great time holding her hand and keeping up!
Hopefully after work today though, the roads won't be so packed (thanks for being MONDAY!) and we can get in and do what we need to do...
Which is skin sewing demonstrations. :) We are in the "Alaska Native Raven's People" building showing you all how EASY it is to make a pair of mittens, or an Eskimo yo-yo, or a pair of baby mukluks (today!). Come visit and I'll give you a little skin sewing kit to take home and practice with...then one day, you'll be making your kids parka's and hats and mittens and mukluks, like me!
OH YEAH... I have to say that all the people coming up to me saying, "HI MAIJA!!! ... HI Finnskimo! ... Hi!!! I wanted to come meet you in person! I read your blog..." has been quite fun! At first I was a little scared and nervous, but after like 15 people in the last couple days it's a blast now! So, SHOUT out to those of you who said HI! And especially to the lady from the Nome area who was really happy and said she salivates when I post about Ugruk and Caribou and Fish and that she enjoys reading about how she grew up too! (HI!)