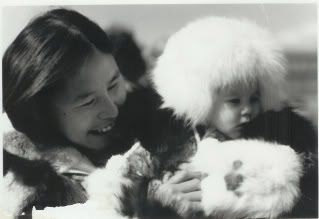 In 1982, my mom was VERY pregnant. I was four and she used to bring me for walks with her in the dead of winter, when the snow is so frozen that it crackles under your soft bottom mukluks.
I used to stare at her belly and smile. My very own play thing was coming soon. I would no longer be an only child to my parents, or an only grandchild to my dad's parents. I'd soon have to learn how to share.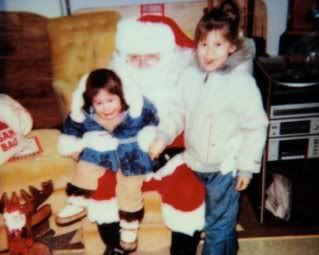 Oh how I looked forward to feeding and dressing and playing with a baby sister. I KNEW it would be a girl. Cause no one who I prayed to would allow my mom and dad to have a BOY (GROSS) especially since the boy's name they picked out was Elbert. I prayed and prayed for a girl who looked just like me, acted just like me, loved me like me!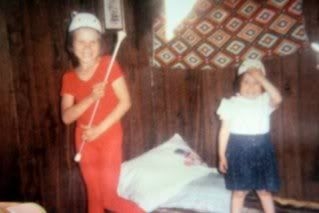 And on the evening of February 23rd, my mom's contractions started. Since it was so stormy, you couldn't see a foot in front of you, she said she'd be fine until morning. But that wasn't the case. In the middle of the night, my dad packed my mom up on the Qammuns (hauling sled with no handrails) and hitched her to the snowmachine. The distance from our house to the hospital was just about 1/2 mile. It took them almost 45 minutes to get there. And only after my mom had pushed the snow machine out of many drifts.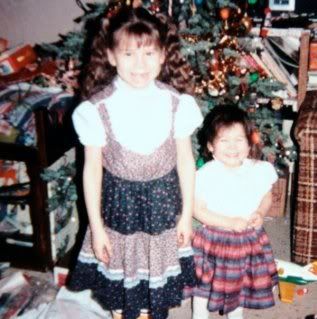 I was home alone with the mice and nuvivaks.
When I woke up, my dad was there and he said, "you have a sister!" I thought to myself. "YES, I KNEW IT!"
"When can we take her home? When can I play with her? Where are the clothes that we got!?"
We arrived at the hospital and being that I was FOUR years old, I was a big girl, so I was able to walk right into the room and declare that "THAT BABY IS MINE." It was the baby with big brown eyes and dark dark hair and a snow white complexion that Michael Jackson dreamed of.
I was the happiest girl in the WORLD.
Then she got older. She was wiggly, and messy, and GOD FORBID, she did NOT listen to me. AT ALL.
And worst of all, my mom and dad made me SLEEP with her, and WATCH her, and make sure SHE was happy. I mean, I didn't sign up for this. The only saving grace that I had with my parents was that they believed ME rather than her. So, when she got hurt, I didn't do it. "She's lying."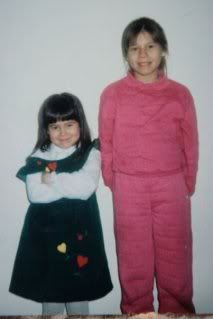 When we moved into the "big" house, we had to share a room AGAIN, and dammit, she did NOT SHUT UP. What happened to that baby who was so quiet and perfect and pretty. All I was stuck with was a 7 year old with snot issues who liked to sing and rub up on all kinds of puppies any chance she got. DOES SHE NOT UNDERSTAND that MY LIFE was important at 12 years old??! I mean, SERIOUSLY!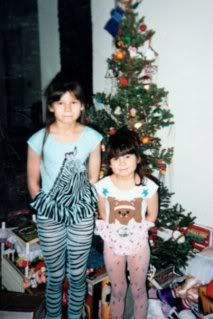 Then all my resentment faded when her and I BOUND together with the sister-strings against our parents when I was 13 and she was 8. We HAD to. It was our SISTERLY duty! AGAIN, we prayed for a better name when my mom was in labor. We promised each other that we would call our NEW baby sister "UGLY POOPY PANTS" if our parents named her Alma. ALMA?! Did our parents not understand how important in the social circle a great name would be? I was hoping for Tiffany, or Debbie, and Saima was hoping for Labrador, or Husky. (Seriously she was that into dogs!)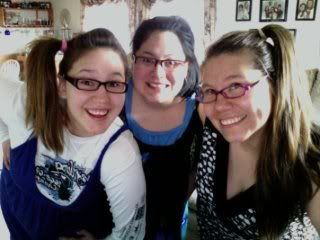 So, in the end, our cohort paid off, they named our NEW sister Elsa. (Elsa, you can thank us later!) And the same spark that I had when Saima was born was in her eyes when Elsa grew up. Its the circle of sisterhood. I'm stuck with Saima who's stuck with Elsa, who's stuck with Koy, who's stuck with Clara who's stuck with Kaisa who's stuck with Noodle. (Noodle will be born on April 11 or April 25, I've already decided as head sister that will be that.)
We have been tested and we have tested each other over the years. But of all the things in the world I am so happy that I was left alone on February 24th, 1982 so my mom and dad could "rush" to the hospital to have Saima.
I love you so much Sister. And I swear I only tried to choke you like three times in your life.
HAPPY BIRTHDAY!