I have been SUPER busy this week, so no posting until now. I have lots to say and sometimes that gets me in into trouble.
*Disclaimer When you're in a big city, its a little easier for you to say what you feel like saying. But when you live in isolated Northern Alaska, you just can't come out and say, "that' is YOUR fault, and GROW UP!" to people. Apparently people hold grudges a long time here. But anyway...this is my personal blog. If you don't like it. Don't read it. Duh. Seems simple enough for me! haha. Oh well. No skin off my back! :) hehe.
Anyway...I don't know if y'all know, but I love hanging out with little girls. They have the BEST imaginations. The BEST stories. The BEST thank you's. They are not all dramatic (well, SOME of them aren't!) yet like tweens and teens are...and I just pretty much enjoy them!
So, we have a lot of "Sleepovers" with the girls in our community. Clara is staying with us while her mom is in Vegas, so her and Kaisa had a sleepover this weekend.
They were doctors, who took care of me. Their names were, "Selena, Taylor, Demi, Rosalina, and Miley!" Can you guess that we do have the Disney Channel!?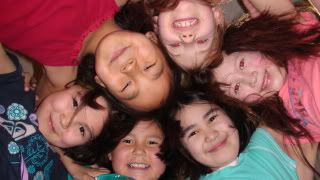 Playing outside they were puppies who were sent to earth to brig back their families to their home planet...wait for it....PLUTO! (I know, funny. haha) They were moms and dads, patients and doctors, friends and enemies.
We made t-shirts, watched movies, made Chocolate Covered Strawberries, cut paper until only a vacuum could pick it up, played out, made "no boys allowed" signs, and talked about fun girly stuff. Like which country you'd like to rule as a princess.
OK look, the girls are the following in age: L-R 9, 8, 8, 6 & 7. Just another notion that my child is an AMAZON girl!
It was a good NO BOYS ALLOWED weekend! Do you have girls? How do you have fun!?