And that means only ONE thing... it's SPRING!
I think I need Holmes on Homes from HGTV to come look at our house. I rains and rains in there. No matter what we do, its still dripping in 4 or 5 locations at once.
But, that's a good thing right?! When the temperature above the Arctic Circle is so warm that the snow that's accumulated in our attic, on our roof and in every crevasse is melting and causing torrential downpour in most of the houses in Kotz. that means it MUST be spring!
Whatever the case at home. It also means that its time to go FISHING!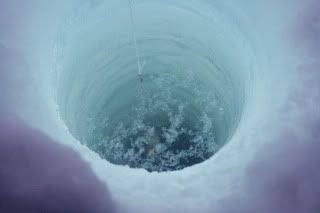 IN the Eskimo Sled the holes glowed! Very cool.
We eskimos like to eat fish. One of the fish we eat is a shii-fish. Some sort of white fish that grows larger than a king salmon and tastes better too. For me, Kings just make my stomach acid call out for Heartburn medication..."ROLAIDS, where ARE YOU!?"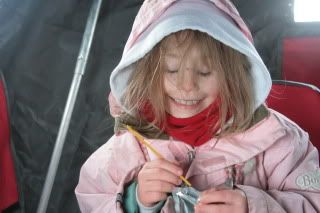 Shiifish though, its nice, flaky, white fish. BETTER than halibut. But, since no one has EVER been able to track shiifish, no one knows a lot about them. All I need to know is where to catch them and that they're good.
So, since we're on perpetual Eskimo Time, we were a little late getting going, but eventually hauled all the kids off in a sled and drove to the mouth of the Noatak River where the fish are usually found this time of year. (Thanks to many GPS markings from years on end!) No such luck though. I caught one bullhead, that was it. The kids mercilessly tortured it until it was "bait" for the next one. (
Just kidding, but seriously, the fish are DEAD and inedible so we just let the kids play with them, so go kiss your pound puppy and stop reading my posts about killing animals!
)
Because it was beautiful out, we just let the kids play in the Eskimo Sled and throw things down the holes, like M&M's and crackers and gloves.
We had a visitor come fly in to our setup too. He easily landed because we only have about 2-3 inches of snow on top of the ice. Kaisa said she was going to bring her skates and a shovel next time.
The only thing I like to do when I fish, is eat crackers, spam and tang. OR Cheez-its and Dt. Dr. Pepper. Whoa golly, those are so good. Sometimes we even bring out a little grill. Thanks
CATHY
for the photo!
If you're up to an adventure, come on up to visit. We'll take you fishing. Who knows...you might even catch something.
I might even let you borrow this! haha. (Just kidding honey!)
P.S. Two of our great friends FINALLY got married this weekend as well. So the combination of a wedding (and reception), fishing and the weather makes for a happy person. :) Congratulations Bree and Derek!