Fishing, Hunting, Snowmachine-ing, walking, and staying WARM.
Not only are they super functional, they're BEAUTIFUL.
My mom made these for me a few Christmases ago, and I LOVE them. They're made with Caribou on the bottom, calfskin, beaver and leather. I love the traditional criss cross of the Siniqs (straps).
We use Mukluks for a lot of things. These were meant for Max, but I've been wearing them since I can't wear "normal" boots, because of my foot. Mukluks its been since I figured out that they fit!
Aana Lena made these out at her camp at the mouth of the Noatak River. She is one of probably just a handful of people who still live at camp year round. She sews mukluks and mittens and parkies for her family. I'm lucky to have her as part of my extended family.
She made them with canvas, some synthetic lining, and leather. I wear yarn socks with them, both inside the house as slippers, and outside the house as boots. Not quite as warm as the fur ones, but when we wear them outside, we wear fur "socks" inside...and Sorel insoles! :)
When I was growing up, we wore mukluks all winter long. I remember, all I wanted for Christmas was a pair of those cool Sorel Boots with the Felt insoles. They were SO cool compared to my ugly mukluks. Only COOL kids had sorels. And I didn't.
Now...I would give anything for a pair of Tuutulik Isiqtuuqs. (Caribou skin mukluks that go all the way up to your knees. You don't know warm until you've had a pair of these!)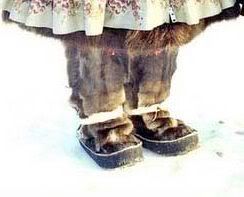 I guess I'll have to make my own. Sigh. Sorry Mom for complaining all those years. Sorels? UGLY.
Only cool people have Mukluks!
So, what kind of boots do YOU wear!? And, who made them!? (probably some kid in China working for 12 cents an hour!) ;)