World's Best.
Of course, I may be a little biased.
And they are full fat, ooey, gooey, carbalicious, and full of caramel sugary goodness. Great with a full fat latte' with caramel syrup!!!
Monkey Bread
4 small cans generic refrigerator biscuits
2 sticks of butter
2 cups brown sugar
1 tsp cinnamon
1/2 tsp nutmeg
(or you can put like 1 1/2 tsp pumpkin pie spice)
1 cup or so Chopped pecans, or Walnuts
1 cup CRAISINS (or raisins, or dried cherries, or blueberries, or whatever!)
Get a bundt cake pan and blow out the dog hair from it. :)
Preheat the oven to 350 degrees. In a small saucepan place the butter, brown sugar, and spices on medium heat until the sugar is ooey and caramely. (into a syrup) Sprinkle some nuts and craisins onto the bottom of the pan, then drizzle a few spoonfuls of syrup on top.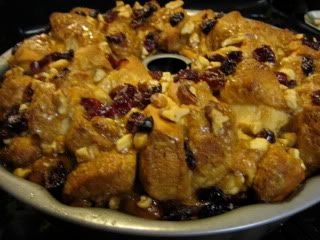 Have your kids cut the refrigerator biscuits into quarters. Place two cans of biscuits on the bottom of the bundt pan, then drizzle a little over half the syrup, nuts and craisins onto the top of that. Cut the rest of the biscuits up and place them in the pan. Drizzle the rest of the syrup, nuts and craisins on that.
Bake in the oven for 40 minutes. Remove from oven, cool for 5 minutes, invert onto a pretty pie plate (cause that's what fits) and ENJOY with your latte'!
Even better the next day! Just microwave for 30 seconds and enjoy! AND EVEN BETTER that your KIDS can do the ENTIRE thing on their own! :)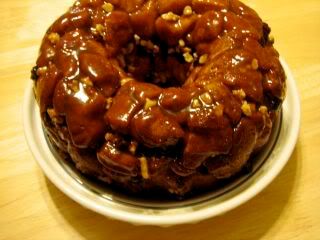 Yummm. :)