So, I'm sort of on light duty for all my home duties, including cooking, wifing, momming, cleaning, walking...etc.
And my husband is off now for the next ten days, on his regularly scheduled days off. So, we do what we can. And that's to be CRAFTY!
I was told today, "you are really Eskimo!" In a good way. And, I'm happy to be called Eskimo. I AM Eskimo. I carve, and sketch, and sew, and etch on baleen, and make earrings, and bead and just about everything else Eskimo's do that's crafty. And I love it. I love sharing it, and teaching it. (Can you tell, I'm just full of love! haha)
I watched in amazement as my husband made a knife and sheath in under three hours, for a family friend, to thank him for all the help during these past few weeks. He's a man's man, and what do manly men need? Knives!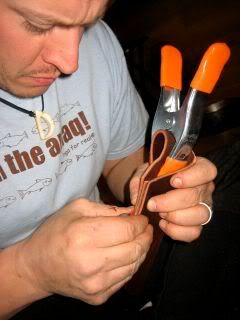 Especially Eskimo Manly Men!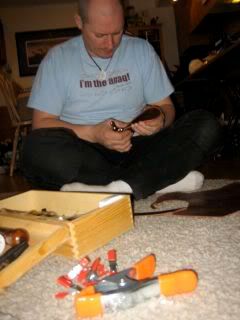 Normally, I'd be doing my own thing, but my life has suddenly forced me to take time to do everything. And I'm thankful for that. I was able to actually watch him work. And seriously, I feel ... so ... proud!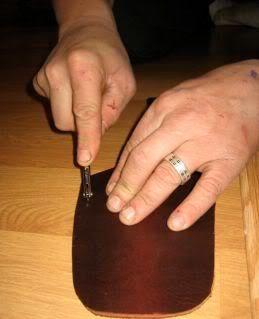 I didn't actually get to watch the knife making, but I did watch him make the sheath. A thick quarter inch piece of leather, hand cut into a single sheath to fit each knife perfectly.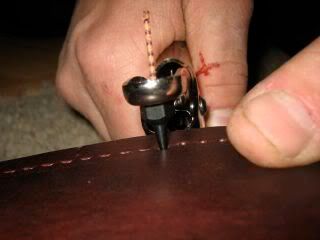 Concentration, and perfection.
So, for those of you who are interested...he DOES make custom knives for people, with custom colors, custom designs, and custom sheaths.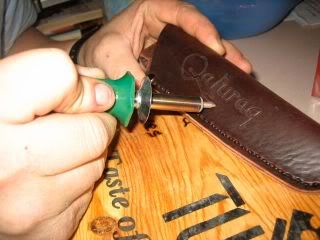 This one, though, was given to Qaluraq.