So, what do YOU do at bible study?!
Cause we have FUN. And by Fun, I mean, this only shows a FEW of the "tats" that I did on our Saturday night Bible Study.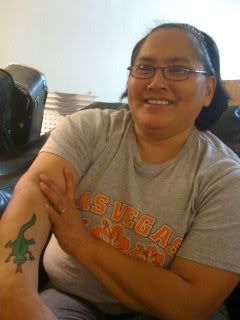 The others were a little to risque...and in super-secret, "lets-find-the-tattoo" places.
And we studied, we did!
I paint kids faces up in the Arctic. Fun for them, fun for me! I use Wolf paints from sillyfarm.com as well as Kryolan paints. I also use regular cheap paint brushes from Michaels. They work fine.
Today was "wacky hair day" at school for the little one. So, wacky we did. Can everyone tell? Momma's home!