Even though Dean is in Palmer with his parents and sister...and Nugent, we had a good Valentine's Day. We spent the day at the gym, and then a lot of the evening at a fundraiser for a local gal...where we raised money for medical bills, etc. She stated something that made us all laugh, but it was the God's honest truth...she was happy that we were there to help her with medical bills and celebrate with her, rather than remembering her.
Anyway, I went to Kaisa's class and took a few snapshots of her classmates. Kindergarteners are just so cute! P.S. the dress Kaisa is wearing was from her ahna and tatta...her and Clara Dawn had the same dresses. I braided her hair like a crown and told her she couldn't act like a queen!
Kaisa and her Valentine Heart
Mister Brad
Cutie Susan...who essentially grew up with Kaisa because her babysitter used to watch both Kaisa and Susan at my apartment from about age zero to age three!
Mister Cool - Hunter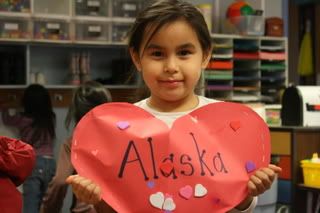 and of course, Alaska Rose
One more of Kaisa...she insisted!