and I don't mean the 101 temp fever variety! I'm talking about the carb induced coma after eating an entire box of Thin Mints!
Girl Scout Cookie Ordering is here. This is Kaisa's first year in Girl Scouts. I think technically she is a Brownie, being that she is in Kindergarten, but whatever she is, she's in it for the money (cookie!).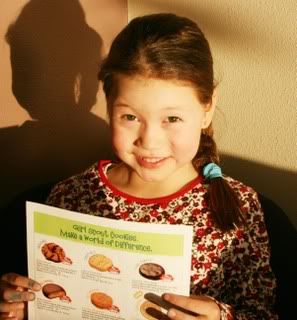 So, now that we are all salivating over Girl Scout Cookies, I thought I'd go ahead and show you the BEST ever cookie recipe...I found it a while back online when I was out of Samoa's. We have an awesome recipe book that gives us recipes on how to make tons of popular things...twinkies, oreo's, and the famous, girl scout cookies!
Homemade Samoa's....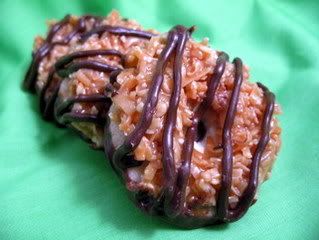 1 cup butter, soft
1/2 cup sugar
2 cups all purpose flour
1/4 tsp baking powder
1/2 tsp salt
1/2 tsp vanilla extract
up to 2 tbsp milk
Preheat oven to 350F. In a large mixing bowl, cream together butter and sugar. Mix in flour, baking powder and salt at a low speed, followed by the vanilla and milk, adding in the milk as needed to make the dough come together without being sticky (it's possible you might not need to add milk at all). The dough should come together into a soft, not-too-sticky ball. Add in a bit of extra flour if your dough is very sticky. Roll the dough (working in two or three batches) out between pieces of wax paper to about 1/4-inch thickness (or slightly less) and use a 1 1/2-inch cookie cutter to make rounds. Place on a parchment lined cookie sheet and use the end of a wide straw, to cut a smaller center hole. Repeat with remaining dough.
Bake cookies for 10-12 minutes, until bottoms are lightly browned and cookies are set. Cool for a few minutes on the baking sheet then transfer to a wire rack to cool completely.
Topping
3 cups shredded coconut (sweetened or unsweetened)
12-oz good-quality chewy caramels (like werthers originals)
1/4 tsp salt
3 tbsp milk
8 oz. dark or semisweet chocolate chips
Preheat oven to 300. Spread coconut evenly on a parchment-lined baking sheet (preferably one with sides) and toast 20 minutes, stirring every 5 minutes, until coconut is golden. Cool on baking sheet, stirring occasionally. Set aside.
Unwrap the caramels and place in a large microwave-safe bowl with milk and salt. Cook on high for 3-4 minutes, stopping to stir a few times to help the caramel melt. When smooth, fold in toasted coconut with a spatula. Using the spatula or a small offset spatula, spread topping on cooled cookies, using about 2-3 tsp per cookie. Reheat caramel for a few seconds in the microwave if it gets too firm to work with.
While topping sets up, melt chocolate in a small bowl. Heat on high in the microwave in 15 second intervals, stirring after each nuke. Dip the base of each cookie into the chocolate and place on a clean piece of wax paper. Transfer all remaining chocolate into a ziplock bag with the corner snipped off and drizzle finished cookies with chocolate. Let chocolate set completely before storing in an airtight container.
Makes about 3 1/2-4 dozen SAMOAS!