Tomorrow is Thanksgiving. Today, I am sitting at home at 7:00 a.m. wondering exactly what I am doing AWAKE. Oh, I woke up and have nothing to do because my kids are already gone to Anchorage without me. They left yesterday morning, and I leave today. I can't wait to eat sushi!
In my entire life, I think I have spent MAYBE four Thanksgivings away from Kotzebue. Maybe. Probably more like two, but I don't know exactly and better err on the side of caution so no one calls me out!
Anyway, my husband, baby sister, niece, children and mom are spending Thanksgiving (and BLACK FRIDAY) in Palmer and Chickaloon with Dean's mom and my dad. (As in, Dean's mom lives in Palmer at her house, and My dad lives in Chickaloon at his cabin!) My other sister doesn't want to chance missing flights so she's going to stay with my Aana and cook her Tundra Turkey.
So, with Thanksgiving tomorrow and only ONE month (31 days) until Christmas, do you know what you're getting your loved ones for Christmas?
I know what I'm getting mine. Well, I shouldn't say "getting" because I'm making most of them, but I can't tell/show you because plenty of them read this blog. But I promise you, they're spectacular! And very Eskimo. And I just realized I only have 31 days to start...AND finish them. Ugh.
But, if YOU want something grand and wonderful for YOUR hunter (or farmer, or wanna-be-hunter) I have the PERFECT gift:
A Custom Handmade Knife.
There are several available immedately with handmade, handstitched (seriously, I hear him yell when he misses the rivet and hammers his thumb!) Leather Sheath with a Belt-Loop. The colors in the photos are the Raw Leather but since then they've been dunked in oil so they are a nice dark brown now.
Here's his contact information. Feel free to check them out on Facebook under "Siksu's Knives" or online at his website.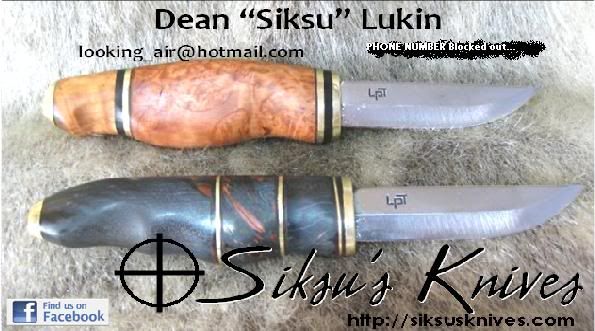 Even if I wasn't his wife, I'd own several because; 1. They're perfect for Hunters, they have a Carbon Steel blade that really does NOT get dull. I mean, I used mine to cut up several Seals and Caribou, as well as duct tape and boxes and other things you use knives for and it's STILL sharp after a year of having it, and 2. They're super cool, very beautiful even if you don't really want to use it. Completely handmade, many (like those in the photos) use Moose and Caribou Antler, Birch, Fossilized Ivory, Whale Bone, and more.
Happy Thanksgiving, Happy Black Friday, Happy 31-more-days-till-Christmas, and Thanks again!