Well, most of you may not have ever experienced that sort of weather, but we do. Yes, even at the smack end of March, we do.
Granted, it was the wind chill, but still, forty below!?
I'll tell you what we do...pack up the kids in a sled and go to camp. Camp, your own personal defragger. Push the button and you're gone.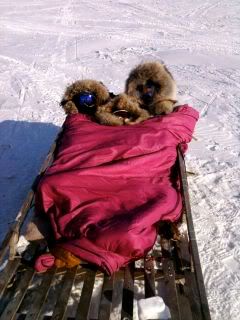 OK, lets talk about craziness here. The craziness that includes no running water...no water actually, either you pack it in, or you find some clean snow and melt it. For everything.
Craziness that includes no bathroom. Eeep! No bathroom?! Psh, yeah. Actually, I take that back, my dad built the camp house with its own potty room, complete with a five-gallon bucket with a toilet seat lid. But, NO FEAR, you stink-haters...we have those little enzyme packets that mix with your pee and it doesn't STANK! Boo-yeah.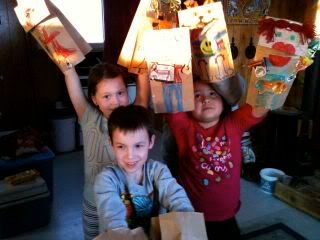 Craziness that includes no heat. Psh, ain't no forty below gonna stop US natives! OK then, we have a wood stove that rocks my socks off, but no forced heat. You actually have to work for your heat.
And with two six year olds and an eight year old, craziness like no electricity....... (yeah I added an extra set of dot dot dot for some extra oomph, cause I'm crazy like that.) But, at night, Dean hooks up a generator and we do allow them to watch one movie so the adults can relax, Sauna, and drink a glass of wine. Ahhh, I've named that generator Angus, I love him so.
Anyway, we took the kids and a friend out to camp this weekend. Clara learned how to make Aglutaks, and she's pretty good at it. She also made a set for her doll as well as a pair of mittens for that doll. By the way, her doll's name is Agnes. Named after our friend Agnes.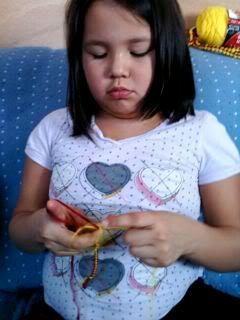 The kids read, play games, complain about not playing a gameboy, Sauna'ed, made paper bag puppets, and made their very own t-shirts.
The adults, cooked, washed dishes, Sauna'ed, sewed, read, hauled water, emptied the honey bucket, read, kept the stove going, and....uh...had a glass of wine. Aaaahhhh.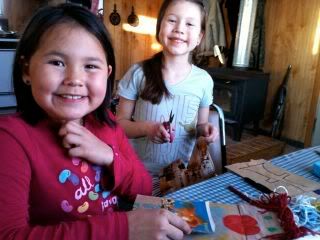 Like I said, my very own defrag button.
What do you do at forty below? (OK, OK, how about forty above??!)