The kids at JNES had another awards day for the end of 3rd quarter on Tuesday. Kaisa received one award, but the day was clouded with some 6 year old manipulation.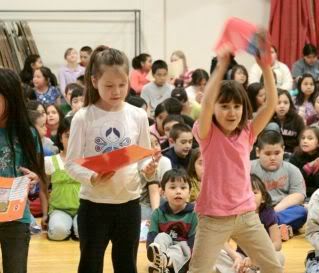 Sky was VERY happy to receive an award!
Do any of you have a bright child? I mean, my daughter is very bright, but in addition to that, she's very quick witted. She's very, VERY quick. She sort of pretends to be shy and observes her surroundings and then, What? Whatever she wants is done and over with and you already gave it to her, long after you've realized that you were duped by a little girl. And worst of all, she KNOWS she's pulled the wool over your eyes and has a little smirk on her face. Is that bad?
I mean, we had to have a LONG talk about that Tuesday morning...AT school after she'd convinced the lunch room lady that she was sick and needed to go home, after her teacher told her she wasn't going home, and she was fine. And not only did her TEACHER say she was fine, Dean said she was fine before school. So, somehow, after a long time at Buckland, I arrived at 8:30 a.m. back to Kotzebue and went to work. Needless to say, she had the lunchlady call ME, because I wasn't keen to the situation and, of COURSE, I'll go pick up my sick baby.
Except that I stopped off at home first and spoke with Dean, then stopped at her classroom before the office. And I had a talk with a certain first grade teacher who told me all kinds of stuff about my child. One thing she said was..."She's maybe a little too smart for her own good."
Hmm...is that good or bad?!
Anyway, when I went to pick her up, she was smiling in the office ready to go home for the day, with me...her mom, who had been gone for 4 days, and would probably sleep on the couch all day while she got away with playing Wii instead of reading...on account of I'd be passed out on the couch, and she KNEW it.
Boy was she pissed when I told her to tell me what hurt, and how was she sick, and why did she tell the lunch lady that she was sick after her teacher had taken her temperature, looked in her throat and listened to her belly?
Smarty girls... straight A's...
Shoot, She was caught!
Kaisa's classmates....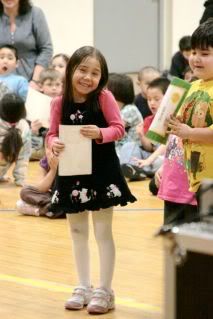 and the cutest of them all!
Needless to say, she's on restriction, but that doesn't stop her from getting what she wants. One of the meetings we had about her, I was told that she'd go far in life, if she didn't piss too many people off first when they realized she had "got them."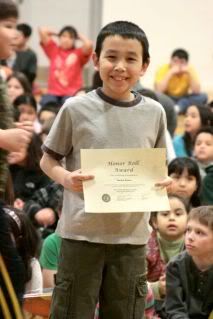 Even if their mom says they're freshwater boys...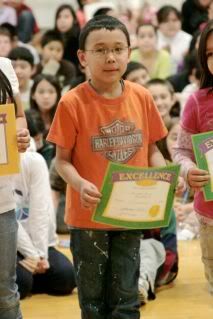 I think they're costal babies...all the way!
Hmm... Ah well. I'm just going to keep on telling myself that she is smart and I am doing fine as a parent, and she'll be fine as an adult!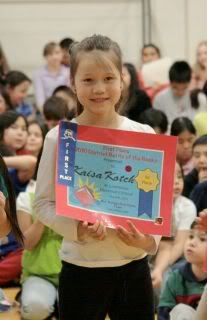 Sigh.....Now, on ANOTHER NOTE...
I was much too busy last week with the Annual meeting preparation to post anything so many of you in internet land, didn't know that we had a HUGE basketball tournament here, 28 teams...and my son's middle school boys team won! Yay for the Kotzebue Middle School Huskies. Actually, both the Kotzebue girls AND boys won the middle school tournaments, so YAY! :)