Now if that's not the most odd title! But comparable with "Mice Killers!"
Thanks for all of your help and recommendations about how to get rid of this horrible cold/flu/sinus/whatever-it-is. I'm still down in the dumps, but only by way of a stuffed up head and I can handle that.
It didn't stop me from painting faces for six hours straight on Saturday. Or making enough stuff for about 150 "Indian Tacos." (Which included that many fried breads big enough to fit on your plate! And Meat and Corn and Pico and Refried Beans and Cheese and Lettuce. Yeah, it was that good and I was that busy)
Sunday we finally were able to RELAX which meant sitting on our duffs in front of the television almost all day. Ahhh... We did manage to take Kaisa out shooting though. She got a Pink .22 single shot rifle for Christmas and has been itching to get some rabbits. And Dean's been bugging me to get reacquainted with my .357 pistol.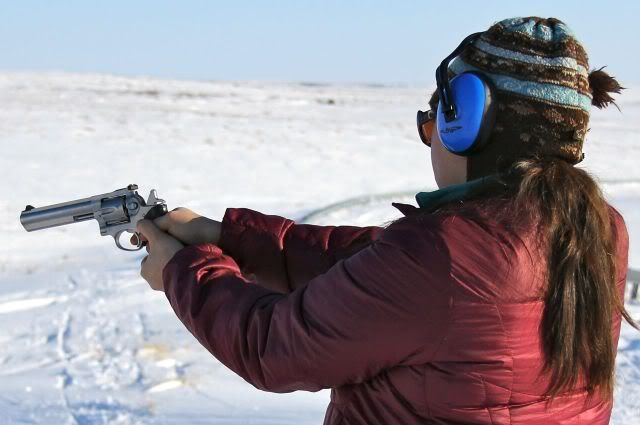 She needed a refresher lesson though, because she's seven and even though she's been around guns her entire life, we still don't let her handle them without one of us standing RIGHT next to her. Cause you know, guns are dangerous.
So, without anymore from momma, here is Kaisa:
Guns are Dangerous. They can't be played with. Even if your friend wants you to see their gun then you should tell their adult parent. (Apparently some parents aren't adults)
First you get your earmuffs on. I got mine from my brother. He's gonna paint them pink to match my gun. (Priorities) Then you get your gun. Then you get a bullet from Dean's pocket.


Put the bullet in the hole.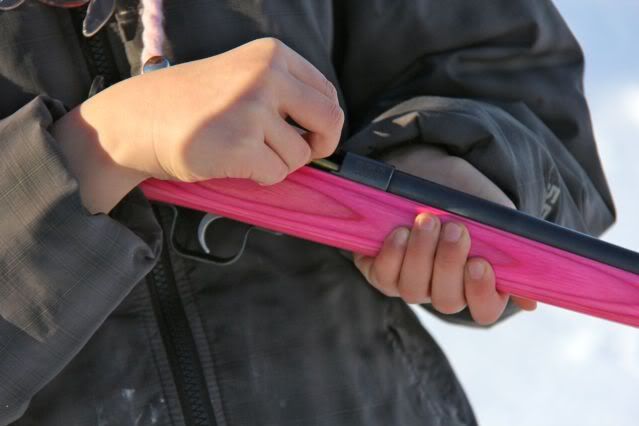 Push the thingy to the bullet and then push the thingy down. (Someone needs gun vocab lessons)
Pull the thingy back. You have to pull it back hard. And you can't wear gloves.

Aim at the target. You can't put your fingers on the trigger until you're ready to shoot.

Then put your finger on the trigger. Breathe real big and then SHOOT! (she CLAPPED her hands right here for some dramatic flair)

If you want to shoot again, you just have to pull the thingy back and open it up, but do it fast or else the bullet thing gets stuck.
And there you have it. How to shoot a gun from a 7 year old's perspective. I guess I'm very happy that she did mention that you should NEVER put your finger on a trigger until you are READY to shoot the gun. She did shoot about 25-30 rounds at a little bitty target in the snow, by herself.
She's not quite ready to go out and shoot rabbits, but she's getting there. And being an Eskimo, living in Alaska, she is going to know how to handle guns and how to handle guns at friends houses, because chances are, there are guns at her friends houses and who knows if their parents taught them the correct way to handle them. The more she knows, the better.