My 8 year old wanted so badly to be Medusa this year. So I obliged. Purchasing some nasty green crushed velvet at a thrift store in Anchorage, in addition to the several snakes we would weave through her hair.
The costume came along very well in my head. She was excited to wear sponge curlers on Sunday night, and get up early Monday morning for school so we could expertly weave those plastic snakes through her curls.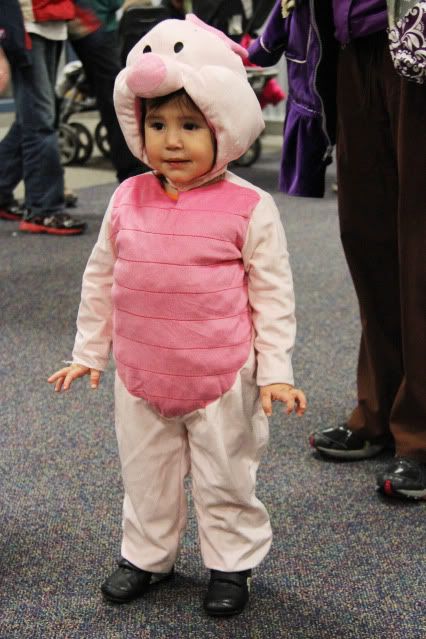 I had to throw this in with the post. She was THE CUTEST PIGLET EVER!
Seriously...look at those hands...ready to cause a ruckus! (My niece Rea)
Little did she know though, that every little girl in our family has to be Little Red Riding Hood. I was LRRH, Saima was LRRH (my mom was the Grandmother, and we had a 6 foot Wile E. Coyote that stood in as the Wolf), Elsa was LRRH, and I think Clara was LRRH too.
My mom meticulously sewed each of us a costume each year. From Clowns, to Princesses, to Indians, to California Raisins (I was SO COOL!). Our Little Red Riding Hood dress was one from our Grandma, and the Hooded Cape (as I remember calling it) was made out of Red Corduroy. My mom didn't use patterns either, she just made whatever she could out of whatever scraps we had!
I desperately wanted her to continue the tradition and was happy she agreed. So, since we had a School Carnival on Friday, she thought she could just be LRRH for the carnival and be Medusa at school.
I sketched a simple dress I wanted to sew up. White button up shirt with a Peter Pan collar, Full skirt, tulle to give it volume, and a front chest overall section with Finnish inspired details, white pleated apron to go in front and of course a hooded red cloak.
Friday at lunchtime, I made the skirt and apron. (We had the shirt leftover from when Koy was a little boy, so I just cut the sleeves off, and curved the collar) Friday after work I made the Red Velvet Hooded Cloak.
She used the exact same basket we all used as children, and put her hair in braids.
Thankfully she loved the outfit so much that she decided that maybe Little Red Riding Hood was the way to go at school too.
I'm glad our traditions run deep. Now if I could just get one of my kids to wear my California Raisin Costume I made in middle school.... :)