Many of you know that I am Inupiaq. Many of you know that I am Finnish.
I post plenty of photos of being Inupiaq. I don't post very many being Finn. That's OK. I don't know what constitutes "being Finn" aside from making simple homemade food and sewing a lot. Possibly having a very eclectic style, super nordic with bold bright colors. Whatever the case may be, I thought I'd share a photo I took at my Grandma Hazel's 90th Birthday party this Saturday.
L-R, Youngest to Oldest:
My aunt Lulu. Who I followed around as much as possible, because when I was growing up, she was the epitome of Cool. She skied, ran, skied some more. And she is the best artist I know. She dragged me to ski practice when she coached for East. I always wanted to be like her. She's married to my uncle Mike who is so cool that he does Arctic Man, and he is the skier! (*Recent update: Mike doesn't do Arctic Man anymore...but he used to!)
My aunt Ellie. Who taught me how to be VERY girly. Or as girly as I could be. Oh, also, I had my first "car accident" with her...and tried artichokes with her for the first time. And she had real toe shoes with musk ox hair in them. I was super jealous. My uncle Brian skis so much that whenever I think of skiing anywhere, I think I'll never ski as much as Brian. He even skis with the World Cup people just to, you know, hang out!
My uncle Martin. Who always was sort of scary to me. He's like my dad though, who was scary to me too, and was very into hockey and baseball, when all I really wanted to do was craft and be pretty. These days though, he takes my little girls (Clara too) on walks to the playground and surprises us all! He was married to the best girl scout/soccer mom I've known.
My aunt Sara. She taught me that it was completely A-OK to sing really loudly at church. She also always inspires me to re-use old stuff and make them new again. I think she invented "up-cycling" from trash. I love Luther Vandross and Aaron Neville because of my aunt Sara. Oh, and on a side note, she gave me "the monkey's uncle." Who used to be my favorite uncle, until he made me eat steamed cabbage.
My dad. He has a ponytail and a chipped front tooth. He lives in the woods after living in the tundra for 35 years. He's content. We see him when he decides to grace us with his presence! He makes all things wooden and by hand. He is married to my mom.
My aunt Maggie. She gardens and has the BEST color collection in all time. She has a Red Wall, a Blue Collection, etc. I love her house. And her husband had a silver screen long before flat-screens were popular! He's pretty cool too. She says that I get her most organized cookbooks someday. I hope it's before she dies cause she's gonna live till she's 105!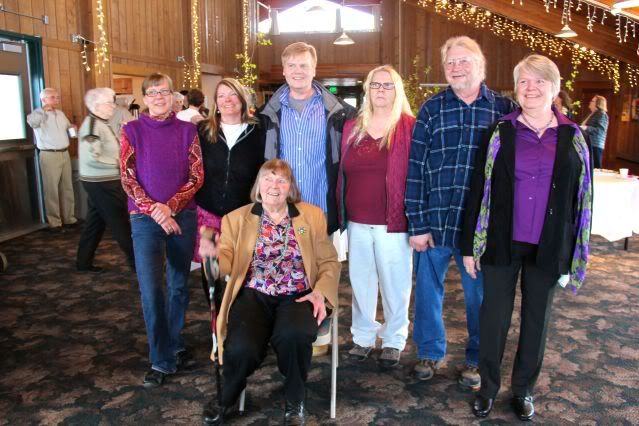 And my grandma. This photo was taken at her birthday party. She taught me how to sew, how to use a pattern but she NEVER EVER taught me how to knit! I remember going on walks with her, going to campfire girls, going to ballet lessons, swim lessons and learning to use the bus. I learned to play Fur Elise on her piano but I never learned to read music. I played Fur Elise so many times that she got tired of the song. I'll never get tired of the song. She also required that I was a proper girl who had manners. I don't know where those went, but she is pretty awesome. She turned 90 years young on April 8th.