I have a kidney for sale. I wanted to save it for my sister, who may need it with her IGA nethropathy, but she'll just have to be put on the back burner. Plus she owes me money, so that plays a large factor as well.

Anyway, so, this kidney, its normal sized, only used for thirty one years. Does really well in its current conditions. I have insulated it with the worlds best insulation, and I have actually over insulated it, seeing as though there is probably about fifteen pounds of the stuff right near where the kidney lies. It performs well, there has been no abuse to it, it only has to flush out certain toxins, and really I've only asked it to work extra hard probably ten or so times in its lifetime. I believe it has the potential to last its new owner another sixty years, providing the new owner takes as good of care as I did. The only thing is that we'll have to harvest it. Its ready now, available within 24 hours of payment, providing there is a surgeon who is able to perform the operation. Contact me if you're interested.
Oh, so here is a picture of why we need to sell, sell, sell...other than that the stock market is crashing and Auntie Fannie and Uncle Freddie are in a crisis...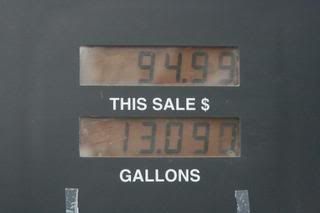 P.S. my gas tank actually holds over 18 gallons of gas. I try to spend less then $150 when I purchase gas. I really had an empty tank, so it cost me $152.59...