About a week and a half ago we were finally able to celebrate my baby turning 9 years old. She had spent her actual birthday in Anchorage with family going to H2Oasis and returned right during the Spring Festival.
I was so busy that I had to tell her we would do something grand next week! Luckily, she complied and we had a grand time, after I was able to rest for a bit after all the fun community stuff.
She decided that she wanted to make Bread and Jam for her birthday. I had seen on a website a birthday party for American Girl Frontier Parties and thought we could use that as an idea. The idea of momma sewing up 15 aprons for her friends was enough to send her into giddy land.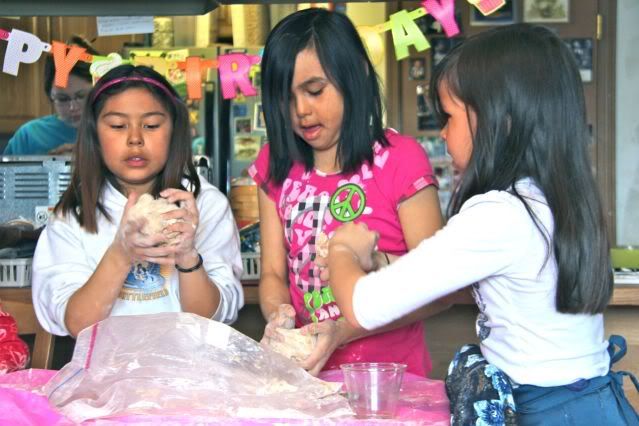 So, that I did. Sewed up 15 aprons from some excess fabric I bought here and there. (Who am I kidding? I have so much fabric, it's ALL excess!) I thought for sure there would be enough aprons to go around, but little did I know that 9 year olds just tell people to come to the party. We had 6 or 7 extra girls so we had to quickly get all the adult aprons out so everyone could match.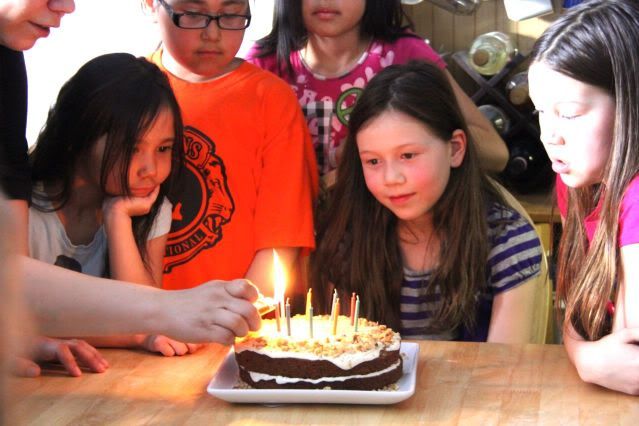 They followed a simple recipe for wheat/white bread, kneaded in a ziplock bag. After the huge flour mess on the table, they played a bit while their bread rose (or didn't rise, luckily I made three extra batches just in case).
My favorite quote of the night, "My aana and me make bread. She tells us we have to CALM DOWN so our bread will RAISE UP!" Yes. That's exactly it. Be quiet, calm down, no screaming!
Some of the girls went outside for a bit to scream and run and play while a few stayed in and made Strawberry-Cranberry Jam with me. We used the recipe on the Sure-Jell box. After a thorough licking of the pot and spoon, we set them out to cool.
A Zucchini Carrot Cake with Cream Cheese Frosting was enjoyed by all at the end of the night as well.
Of course, while the bread baked, the girls played Eskimo Bingo. (What's a party without Eskimo Bingo!?)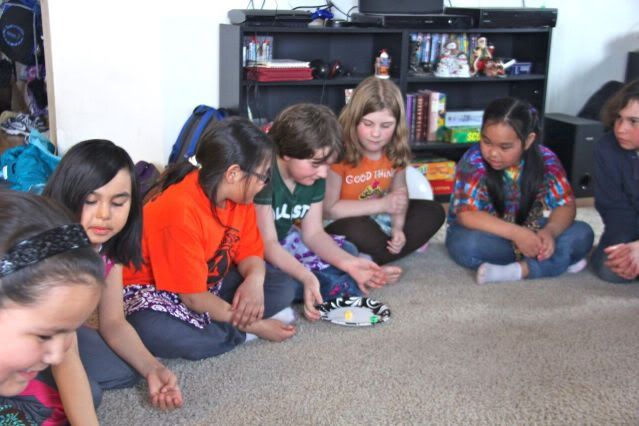 After several presents of Money, and an awesome shirt that says, "Moose, it's what's for dinner!" the girls went home with their aprons, a loaf of hot crusty Bread and a jar of Strawberry-Cranberry Jam in a basket. (Which I didn't get a photo of.)
Good enough till next year!
PS Thank you all so much for your generous donations to Blake, Kristen and Shaun. His radiation treatment starts on May 14th. I'll keep you updated. - Maija